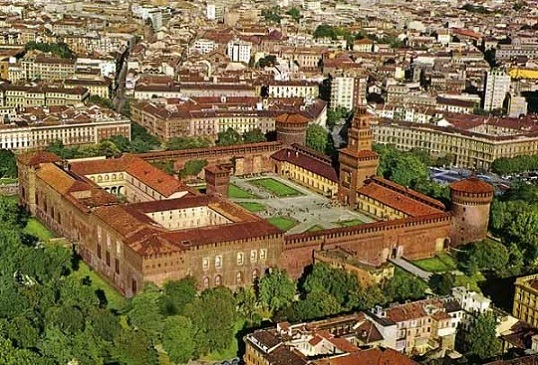 If you prefer to spend the vacation in Italy but at luxury 5-star hotels in Milan close to the historical landmarks and tourist places such as Sforza Castle, you could directly find your request by using HotelsGuest site or by reading this page that shows a list for your demand.
List of top 5-star hotels in Milan close to Sforza Castle:
1- Hotel VIU Milan, it's a 19-minute on foot from Sforza Castle.
2- Hotel Pierre Milano, it's a 16-minute stroll from Sforza Castle.
3- Sina The Gray, it's a 14-minute walk from Sforza Castle.
4- Hotel Principe Di Savoia, it's a 24-minute on foot from Sforza Castle.
About Sforza Castle:
Sforza Castle is actually one of the big huge castles in the continent of Europe. It was built in the fifteenth century, and now it is one of the most important tourist attractions in Milan, where it includes art museums such as The Museo d'Arte Antica and The Applied Arts Collection of Milan.
Sforza Castle is full of many artifacts and historical art, some of which belong to famous artists such as Michelangelo, in addition to the wonderful green spaces around the castle and the courtyard of the castle, where you can take a wonderful tour between roses, plants, and artificial fountains, so Sforza Castle is one of the most beautiful places Tourist in Milan.
Other historical places in Milan:
1- Milan Cathedral. 
Milan Cathedral is one of the most important and most prominent tourist attractions in Milan if not the most important at all in this city for most tourists. The cathedral, whose construction and stunning design took about five centuries in Gothic style, is the largest church in Italy and the third in the world.
2- Brera District.
The Brera district is located in the north of the center of Milan, and it has a pleasant artistic atmosphere for fans of various classic and contemporary arts, as it boasts a large number of amazing landmarks such as the Pinacoteca di Brera, a famous art gallery. The Brera district includes a number of other famous landmarks such as Monte Napoleon Street and the Brera Botanical Garden. This tourist place can be considered a distinct area for shopping lovers, as it includes a number of stores that offer the best goods with moderate prices, so visiting the Brera area is one of the enjoyable things in Milan city, especially for art and shopping lovers.