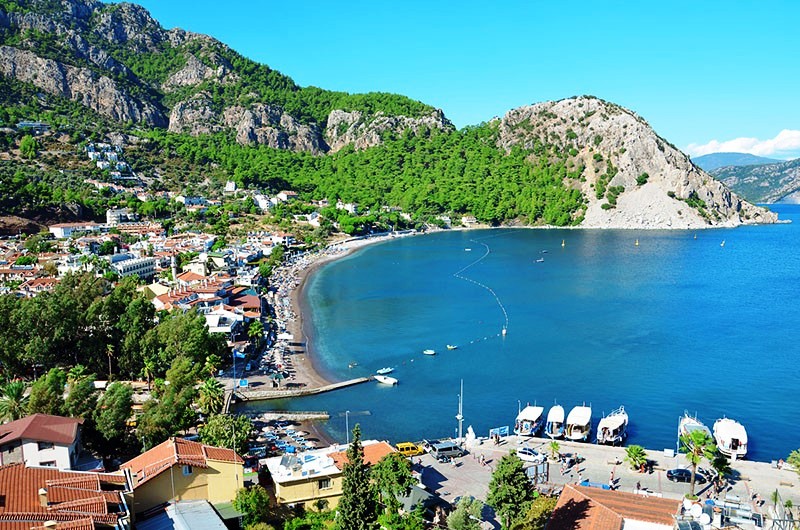 Here is the full list of Turunc Excursions
Turunc is a beautiful village located on the eastern coast of the Bozburun Peninsula. Apart from just lazing on the beach and enjoying your day by the pools, Turunc offers you a wide range of activities on your Turkish vacation. There are many untouched small villages in the neighboring you can explore and learn more about authentic Turkish village life, cuisines and culture. The beaches and secluded bays among the clear blue pristine waters of the Aegean Sea are perfect locations to spend your most memorable time with your friends and families. We have a wide range of exclusive tours around Turunc and to help you experience the best time of your life!
Though Turunc still holds its quaint village character, this enclosed sweep of the bay way down from Marmaris is renowned for its beach with pebbles on one end and clean sand on the other. Turunc is also the proud winner of 'Blue Ribband'- an award given for places with the cleanest beaches and sea waters in Turkey. The traffic at Turunc is relatively less and provides an ideal holidaying place for couples and families with children. With a shallow rake on its beach, Turunc is safe for swimming and hosts a wide-range of water sport activities like water-skiing, windsurfing, scuba diving and speedboat driving.
Our daily trips to the peaceful Amos and Kumbuluk Bays provide you with great adventure and an amazing opportunity to explore the area. We offer boat trips to Dalyan and the Turtle Beach, the popular Five-Bay Cruise, the Rhodes Island Tour From Turunc, an All-Inclusive Boat Ride among the Aegean Sea, special and comfortable road trips to Ephesus, Pamukkale, an all exciting Rafting Trip among the rapids of the Dalaman River and much more.
The Turunc Market is organized every Monday and this is an interesting place well known for its pine honey and olives. The Tea Garden in Turunc is yet another popular spot that you must not miss to visit. Shopping in Turunc is a pleasing experience as there is no hurry as you see in other resort centers. As Turunc is surrounded with pine clad mountains, hiking is also a quite popular adventure among our guests. Our trips around the village include rejuvenating Turkish bath, adventurous Jeep Safaris, interesting local Village Trips, a Trip to Aydin, Datca Adventure, a Car Trip on the Peninsula, fantastic Horse Ride, a Walk to Icmeler, easy and laidback Turkish Nightlife Trips among the best late night music bars in Turunc. You can dance to the evening music, taste some of the most delicious drinks and savor the wonderful Turkish cuisines while you join us to this trip.