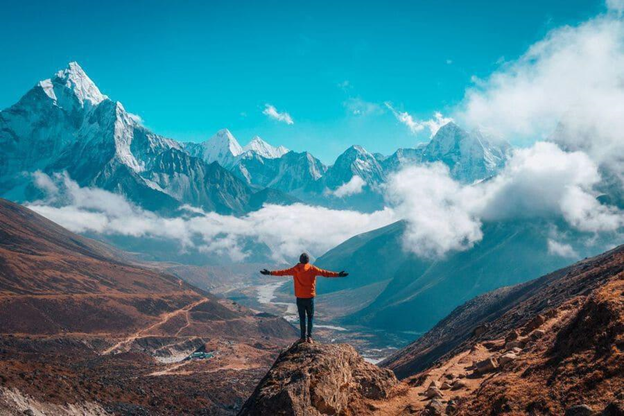 Many people have very exciting fantasies about reaching the top of Everest. However, not everyone can climb the highest peak in the world. If you cannot attempt the Mount Everest summit, hiking up to the Base Camp is a better and easier alternative. The Everest Base Camp Trek is feasible for anyone with a basic level of fitness.
A hike to base camp also takes much less time and money than climbing Everest. However, for your trek to be successful, you must understand the Everest Base Camp trek price and schedule.
Such a trip would cost between USD 1200 and USD 4500. Depending on the agency, the services they offer, and the route. The price of the lavish trekking package and the options for a helicopter return will be a little more expensive than the price of the regular packages.
It will take roughly 12 days to complete the Everest Base Camp trek on a standard schedule. It takes 9 days to get to the camp, 3 days to get there, and another 4 days to get on a flight back from Lukla.
You will leave Kathmandu to begin your Everest Base Camp Trek. After boarding the aircraft, you'll soar over the valley. You'll take a quick valley sightseeing tour before flying to Lukla. Once you have safely arrived in Lukla, you will begin your trek. One of your first stops will be to cross the Dudhkoshi river via two suspension bridges.
You will then reach Sagarmatha National Park. It is a protected area and a world heritage site. It is a location of significant global significance. A lot of species of animals and plants that are endangered call this area home.
You will then make a few rough steps forward after Sagarmatha National Park. This will direct you to the intriguing town of Namche Bazaar. The locals will warmly welcome you. The Namche Bazaar offers stunning Himalayan views. You'll continue your journey the following day after spending the night in Namche.
The next day, you'll carry on your ascent toward Everest Base Camp. Tengboche, Dingboche, and Lobuche are the routes you will have to take. Buddhist monasteries are significant in number around this region. It would be a wonderful experience to interact with the local Sherpa population and learn about their culture.
The path will then take you to Gorakshep and eventually the Everest Base Camp. You will reach the Everest Base Camp on the eighth day after a strenuous trek along these passages. After that, you can have a good night's sleep in Gorakshep.
You will reach the Kala Patthar viewpoint as you continue to ascent. From here, you can see the entire peak of Mount Everest. Some claim that in this region, Everest seems to be a dream.
Once your trek to Kala Patthar is complete, you will head back to Gorakshep. Then you move toward Periche as a route home. You will return to Namche Bazaar from Periche. The majority of this section of the trek will involve descents. As you get closer to Namche Bazaar, you can see more settlements and vegetation.
You will return to Lukla the following day after arriving in Namche Bazar so that you can board your flight back to Kathmandu. This will conclude the 12-day Everest Base camp trek. If you are looking for some shorter itinerary you can check 7 Days Everest Base Camp Trek.